February 8, 2013
T
wo things
Arnold Palmer, Jack Nicklaus
and
Tom Watson
all accomplished in their storied careers was to win a lot of golf tournaments at the highest level, and design some of the best golf courses anywhere. Two things
Larry Packard
has accomplished so far in his 100-year life are to make it to that centurion milestone and to design some of the best golf courses anywhere. Now you have an opportunity to play up to nine of their combined Florida tracks in a single multi-day adventure, or spread out over three trips. And, oh - by the way - you will enjoy some of The Sunshine State's finest accommodations while taking on this variety of courses on the newly formed
Legends of Golf Trail
.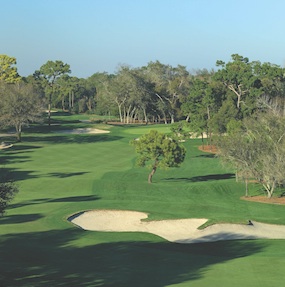 Copperhead
Packard, who is said to still enjoy a refreshing gin and tonic, began his course design work in 1946, but his most famous creation is the
Copperhead
course at
Innisbrook Resort
near Tampa. He has been quoted saying that what stands Copperhead apart is the feeling that you are more likely in the Carolinas than in Florida, with the elevations and tree lined fairways. The course has been host to PGA Tour events for many years. Innisbrook is home to three other enjoyable Packard courses and is a part of the new Legends of Golf Trail, created and run by the folks at Salamander and their collection of fine properties. Innisbrook offers deluxe guest rooms, suites, a handful of restaurants and all the amenities you want for your stay.
A mere 90 minute drive from Innisbrook to the land of Disney and all the attractions Orlando has to offer, is the largest and most comprehensive of the Legends of Golf Trail facilities with the renowned
Reunion Resort
. With some 330 condos, villas and homes ranging from 750 to 2200 sq. ft., comfort is a given at Reunion. It is also the site of this writer's greatest on-course accomplishment and was done so on one of The King's terrific layouts. I will spare the details, but will say that Reunion Resort, on an Arnold Palmer course, is a wonderful place to have a personal best golf experience. Let me tell you about the golf. Talk about golfing legends! Nowhere else will you find Signature designs by Palmer, Nicklaus and Watson. These are truly three uniquely set up courses, on one property, and all playable from multiple tees created to give you the best golf experience possible.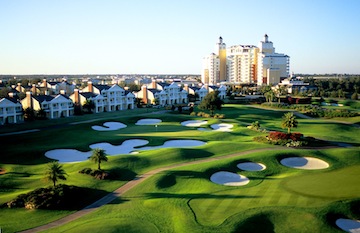 Reunion
The
Watson Course
may be the most aesthetically pleasing of the three Reunion courses and requires a creative imagination. He built dozens of bunkers and designed clever openings to greens to demand well thought out approach shots. There is a premium on a creative short game. The
Nicklaus Course
is likely the most difficult of the three. Jack is no stranger to building difficult courses - sometimes you think he is simply tempting you into trying a shot you don't have. But never is there a hole that is not playable to a thinking golfer. And if you do succumb to the temptations and pull it off, you will be rewarded. As for the
Palmer Course
, this is what a resort course is meant to be. It can be challenging, but offers wide landing areas, approachable greens and expansive wastelands that can often be played from.
Reunion also offers the opportunity for real golf improvement as host to the
Annika Acadamy
, founded and run by Hall of Famer
Annika Sorenstam
. Annika, along with her sister Lotta and several highly qualified instructors offer programs focused on fitness, nutrition and instruction. While the academy and resort are separately run, they cooperate on setting up packages to meet any need. Extensive options are offered.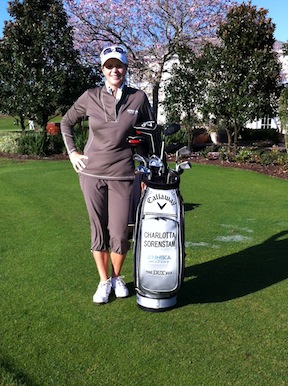 ANNIKA Acadamy
The final leg of your Legends of Golf Trail, if you are going gulf to coast, will be the phenomenal
Hammock Beach Resort
in Palm Coast, just south of St. Augustine. Personally, I suggest you drive from Orlando to Daytona, then up A1A to this spectacular. facility. Once there, you will find accommodations on par or better than what you often find in a destination resort. There are a lot of amenities at Hammock Beach including spa, pool, lounges, bars and restaurants. And the suites can make you want to stay in, if just for a while.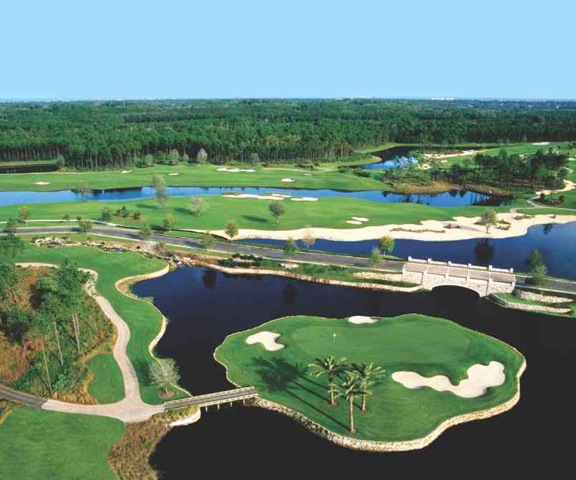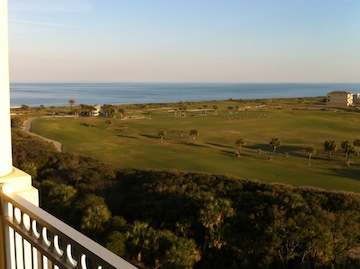 The Conservatory Room with a View at Hammock Beach
The golf offered here includes another Tom Watson course called
The Conservatory
and the Jack Nicklaus signature
Ocean Course
. The Ocean Course, as suggested by the name, sits above the Atlantic, which comes into view on six of the holes. You will take a shuttle to the Conservatory Course and you will not be disappointed. If you want to beat yourself up and play from 7,776 yards with a 78.2/150 rating, play the black tees. We suggest you move forward to one of the other five tees.
There are so many options available to us snowbirds when it comes to a winter golf getaway it sometimes seems difficult to choose. But if you want the sun and water of Florida, along with legendary golf courses and amenities that will meet and exceed many others,
The Legends of Golf Trail
of the
Grand Golf Resorts
of Salamander offer terrific choices. For more information, visit:
grandgolfresorts.com