Golf in southern Nevada, with worthwhile exceptions, is often not for the faint of heart or
light of wallet. It does offer options that should be on every golfer's bucket list.
This story is not about a budget conscious golf trip. It is to point you toward experiences
to be had and memories to be made. Starting and ending with two of the most visually
stimulating courses on the planet, let me set an agenda for you for a three-day, four-night trip you will forever remember.
After arriving at McCarran International get a limo to Caesars Palace. There are several to choose from, but you will be pleased with Presidential. Of course you can choose The Venetian, Bellagio or any others but Caesars is nicely located and a terrific place. Once settled, you will need to decide on dinner in a town with more celebrity chef's than any other. The Cosmopolitan is within walking distance of Caesars and is Vegas' newest hotel. It houses STK, as fine of steakhouse as you can find. Executive Chef Stephen Hopcraft, with an in-house DJ providing some of the ambiance, will provide you with a delightful meal and superb wine selections.Though their website says they offer a feminine take on steakhouses, your golf group will feel in place.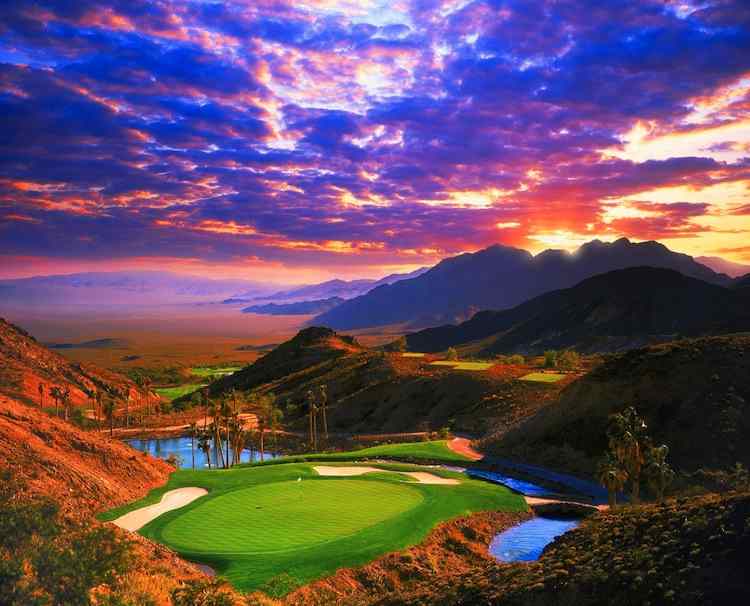 Cascata Beauty
You can book your tee times through the golf desk at Caesars and make your first one at Cascata. This oasis is near Boulder City, a remote course about a 30 minute drive from the Vegas strip. If you see another group on this $$$$ course, you are playing too slow, or too fast. Operated by Ceasars Palace, Cascata plays just over 7,100 yards from the tips and you better be an 'A' player if you want to hit from there. Incidentally, Caesars also operates Rio Secco, home of the Butch Harmon School of Golf.
Originally built for the exclusive availability of their guests, the course is now
open to anyone with about $350 and a want of top-end golf in the desert. Cascata means waterfall in Italian, and a 418-foot waterfall from the mountainside above the driving range welcomes you to your warmup and then winds through the practice facilities eventually flowing into a river going through the clubhouse. Oh, and tip your mandatory caddie $50 if he does the minimum expected, more if you play better than your handicap. He will save you 4 strokes on the greens, at least that many pointing your preferred target off the tee. Honestly though, put little emphasis on your score, take in the surroundings and enjoy your time.
The other bookend for your outing will take you on a 90 mile trek up I-15 to the town of Mesquite and a track called Wolf Creek. This is a course equally, if not more, visually stunning than Cascata, but playing your round with a single ball or two is unlikely without pure ball striking throughout. Bring a box of Pro V's or Penta's. The vistas are insanely stimulating, the course is extremely well kept and the rates are reasonable, in the $125-160 range depending on dates.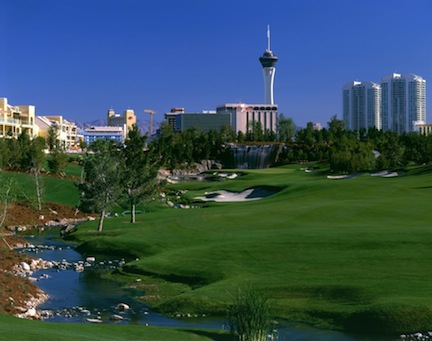 The Wynn - looking toward The Strip.
If you really want to golf "in" Las Vegas a game at Wynn Las Vegas is mandated. This Tom Fazio layout on what was once the Desert Inn and Golf is a mix of waterfalls, streams, trees and landscaped contours you would not expect to find right behind the Wynn Resort and the Las Vegas strip. With Class A PGA Professionals as caddies, you will find no excuses for not knowing where to play your ball or how the well-manicured greens will break. While you might pay as much as $500 for a round of golf at Wynn, there are stay and play packages just over $600 at certain times. Price is not a consideration though. If you can, you should play Wynn.
Of course Wynn, with all its glitz and delightful distractions, also offers an impressive selection of top Executive Chef dining options. The open-face French Dip sandwich at the Country Club overlooking the 18th hole is the best you will find, period. For finer dining the SK Steakhouse of Star Chef David Walzog takes mouthwatering entrees to a new level.
Before you leave Sin City there are a couple more indulgences to consider, both housed at Caesars in the QUA Baths & Spa. If your golf scores weren't what you wanted consider a golf hypnosis session to help find your zone. And if your muscles are a bit sore from all that golf, by all means enjoy a hot stone massage followed by a refreshing cedar sauna, an herbal steam room, arctic ice room and hot tub to finish it up.