Of Firths, Burns & Haggis

A bonnie and braw time on the links - By Greg Wires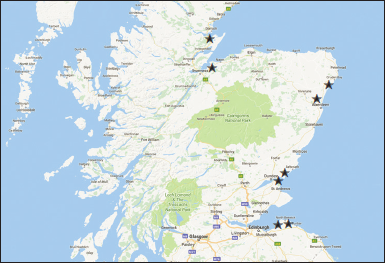 The customs agent at Glasgow airport noted that I had written "Golf Tour" as my reason for visiting Scotland. He asked me where I was playing, and when my reply began: "Royal Dornoch, Castle Stuart, Carnoustie..", he stamped and handed back my passport with the encouragement to "play well". Welcome to The Home of Golf.
My ForeCaddie at Castle Stuart told me how David Beckham had once paid off the caddie's aunt and uncle's £52K mortgage to take away their honeymoon suite at Gleneagles Golf Resort. Our 8-day coach driver told me I was sitting in the seat once occupied by The Dalai Lama when he was touring parts of Scotland.
We didn't have the most luxurious Scottish golf resort of Gleneagles on our itinerary and we may not have found ultimate inner peace, but our 2017 trip to the home of golf was as close to golf nirvana as you can get and took place on eight of the ultimate Scottish links to make this a bucket list trip, hopefully fulfilled.
After an enjoyable 4-hour drive through the Scottish Highlands, on the left-hand side of the road, to meet up with the group in Inverness, our first round was at Royal Dornoch, a course considered by several
of our group as the best of the bunch.
Royal Dornoch is fairly remote, just miles from the Arctic Circle, which allows for late-in-the-day tee times, without concern for enough daylight. It sits just above the North Sea and offers several impressive panoramas across the water. Like many a course in Scotland, it plays as a continuous loop without a stop at the clubhouse following the outward nine. Royal Dornoch ranked #1 in an informal polling of our group and that is no surprise. The conditions were terrific, the scenery impressive and the layout such that a good shot will usually be rewarded. If not so remote and with more infrastructure, Royal Dornoch would likely host an Open Championship.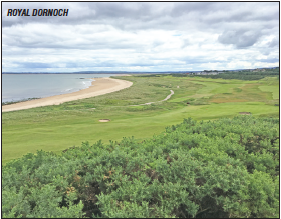 While most of the courses we played were classic links courses from the times of Old Tom Morris and earlier, our second day brought us to one of Scotland's newer championship layouts at Castle Stuart Golf Links. Castle Stuart was built for the specific purpose of hosting Scottish Open Championships. It has held four since opening in 2009, including the 2013 tournament won by Phil Michelson, the week before he won The Open Championship at Muirfield. The course starts you off heading southwest overlooking the Moray Firth and finishes your round heading in the same general direction, with the par-5 18th above hole #10 and the same body of water. In between is a mix of typical par-72 course holes, set on a piece of land that feels much older than it is. Gil Hanse was on the design team and suffice it to say, when the scorecard tells you the back tees are "by permission only," the course can play difficult.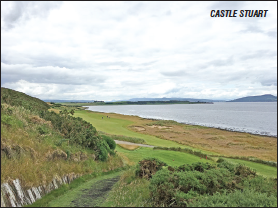 By our third day, our group was getting into a groove and our driver, Robin, had dropped us off following our round at Castle Stuart, at a delightful inn called Kilmarnock Arms in Cruden Bay, where we would be based for the next 2 nights. The full Scottish Breakfast (or any parts of it you want) is offered daily and one morning a box of used golf balls was placed in the dining room with a note telling you to feel free to take one and better luck with it than the previous owner had. Kilmarnock Arms has nice rooms, good dining and a fully stocked Scottish bar.
The hotel is just minutes from Cruden Bay Golf Club, but our first round out of this hotel was at Royal Aberdeen Golf Club. Oh, my! There are a couple of reasons you may want to play Royal Aberdeen. One, if you are a very good, low handicap player. Two, if you are truly interested in historical golf courses. It's been reported that the five-minute lost ball rule was first put into place here and you can see why. One of our guys lost 4 balls on one hole. I certainly didn't play the same ball the entire round. The fairways often appear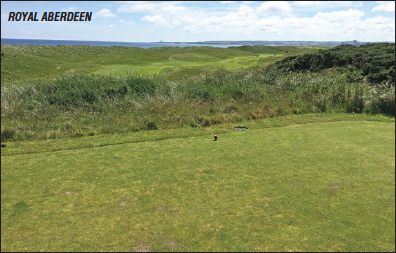 to be tiny slivers of immaculate green surrounded by dense gorse and thick heather rough. While the golf was difficult, it was a good place to play for the feel of history it invokes. It was founded in 1780 as the Society of Golfers at Aberdeen and became the Aberdeen Golf Club in 1815. It is one of only seven courses in Scotland with the 'Royal' designation, which was awarded by Edward VII in 1903. The caddies were very knowledgeable and indispensable in navigating our way around Royal Aberdeen.
Following our second night at Kilmarnock Arms, we were out early at Cruden Bay Golf Club. With wonderful views of the course itself, as well as the sea in the distance, I found Cruden Bay to be a very enjoyable course with an interesting amount of elevation changes and distant views. From certain high spots you can see the ruins of Slains Castle, of Bram Stoker's Dracula fame. While golf was almost certainly played in Cruden Bay earlier, the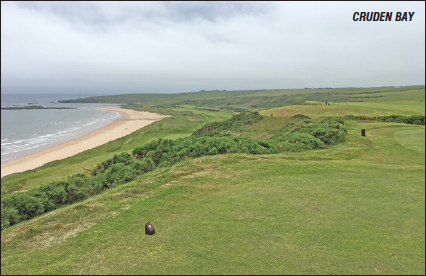 current course was commissioned in 1894 and the original Tom Morris design opened in 1899. In the first known professional tournament held at Cruden Bay, Harry Vardon won 1st place, the winners amount of the £120 total purse is not known. In addition to the golf, Cruden Bay has an impressive clubhouse and dining facility overlooking much of the course.
Upon completion of our round, we climbed into the van and headed to our much anticipated landing in St. Andrews. Ah, St. Andrews. It's hard to not fall in love with this quaint, historic and enchanting town. Obviously, for a golfing crowd, The Old Course is the ultimate experience. And while our 4AM wake-up and hour + time in a pre-dawn line for a tee-time was fully worth the effort, to be able to spend some days in St. Andrews is to experience something special.
First though, we headed a short drive to Carnoustie Golf Links, site of the infamous blow-up of Jean Van de Velde at the 1999 Open Championship. You might remember, Van de Velde held a 3-stroke lead going into the 72nd hole, a par 4 of about 444 yards. Jean needed only to match my double-bogey 6 to win the Championship, but instead carded a triple-bogey and eventually lost in a playoff. Carnoustie, in my opinion, gets a bum rap when referred to as Car-nasty. As my caddie pointed out, the course they set up for an Open Championship is not the course we played in mid-summer of a non-Open year.

For the pros, several fairways are cut to 20 yards wide or narrower, the rough is grown to unusual height and thickness and the green speeds are at the top of the stimpmeter readings. From the tees we used, five of the six par-4s on the outward nine play less than 400 yards. While the 16th, called Barry Burn, is a brutish par-3 of 235 yards, the other par-3s can be played with mid-irons and the par-5s are all doable. The inward nine par-4s are a challenge though, and this was where we got our first taste of Scottish links weather with a 20 minute downpour, forcing us to take out the all-weathers for the only extended time on the trip. It was fun to avoid the Barry Burn on 18, something Van de Velde will forever wish he had done, and finish the round with an eye to this year's Open Championship. It will be interesting to compare the course layout in July, with what we saw last year.
As I mentioned, to play St. Andrews Old Course, we had to get up for the early morning ritual of waiting in line to see if there were enough available tee times. We had been on the previous two nights' ballots, but were not lucky enough to get drawn. So, up it was at 4AM, and with 25 guys in line in front of us, we were cautiously confident when they opened the doors and told everyone that they had 29 guaranteed times for that day. Three of us came in at 27, 28 and 29, so knew we would play later in the day. The other two in our group who wanted to play The Old Course were able to secure "dark" tee times - those after 5PM when completion of your round is not guaranteed. With the mid-summer high-sun, it was no trouble and we all had our rounds complete on what is probably the most famous course in the world. It really is not too difficult and being paired with a couple of members made for a fun and easy-vibe round. I will say, teeing off on #1 and coming up #18, where townspeople and tourists gather all day to watch players begin and finish their rounds can be a little intimidating, but playing The Old Course made this trip complete. I managed a 2-putt bogey on #1 and an unfortunate 3-putt bogey on 18, where a 2-putt, par finish would have drawn some cheers.
St. Andrews, the town, is a total delight to visit. It is home of the oldest university in Scotland and third oldest in the UK following only Oxford and Cambridge. It offers the historic St. Andrews Cathedral, where you will find the graves of both Old Tom Morris and Young Tom Morris. Here golf balls are left in homage on an impressive monument to the young son, who died on Christmas day at age 24, just months after the untimely passing of his wife and infant son.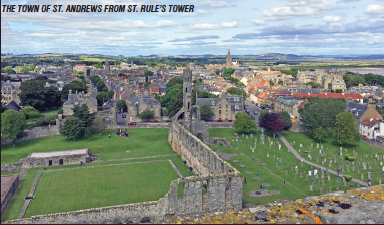 You can climb St. Rule's Tower, 156 spiral stairs, both up and down, with magnificent vistas of St. Andrews and the surrounding Fife countryside. St. Andrews also has a wide array of dining options. A pint at Dunvegan, where caddies often congregate following golf, is a must. They are said to have the best fish and chips in town. My personal favorite dining spot was Forgan's, a casual, but slightly upscale eatery housed in the former site of Forgan of St. Andrews, the oldest golf club factory in the world. The menu includes a sort of creed written by D.R. Forgan and reprinted elsewhere in this magazine. Interestingly, one of our guys found a hickory club at a flea market with the Forgan's name stamped on it. The menu is rich with offerings of Fisherman's Pie with Salmon, Inverurie Rump of Lamb, and Isle of Arran Haggis, Neeps & Tatties all available. We stayed at The Russell Hotel in St. Andrews and it was the proprietor, serving as bartender, who encouraged us to make the early morning trek to attempt getting a tee time at the Old Course. It's a lovely hotel, just a 3 minute walk to the first tee and convenient to everything in town. Of course, no matter where or what you eat, drink, or sleep, your walk across the Swilcan Bridge will top your memories of St. Andrews.
With only two days left on our itinerary, we were escorted early the next morning for a van tour through historic Edinburgh where Robin pointed out the coffee shop where J.K. Rowling penned the first Harry Potter. We also saw Fettes College from the distance, apparently the inspiration for Hogwarts School to said writer. But it was on to perhaps the coolest hotel of our visit, The Golf Inn in Gullane, East Lothian. Every room is named for a famous course. I stayed in Carnoustie.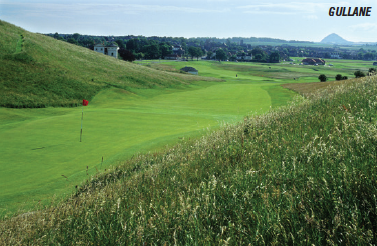 It is a short walk to Gullane Golf Club and we were off for a late afternoon tee time and found a course previously unknown to me and one I would play time and again if I could. There is a vantage point where you can see adjacent Muirfield, the Firth of Fourth and much of the Kingdom. It has world history too, with large concrete blocks protecting the shore from the advances of Hitler's tanks.
Much to my surprise and pleasure, our final round was at North Berwick Golf Club with the famous Redan green on the par-3 15th, a green surrounded by a stone wall and enough variety of shots and views to keep you interested through your 144th hole in eight days. The history of the course is easily felt from the beginning of your round - out a continuous loop primarily west to the turn eastward on #10. With prevailing winds, the two nines play quite different from each other. The North Berwick Club was formed in 1832, though golf on this land dates to the 17th century. Once again the Firth of Fourth serves as a backdrop and the pleasant town of North Berwick itself is adjacent to the course. They have hosted final qualifying for The Open Championship and both Gentlemen and Ladies Amateur Championships.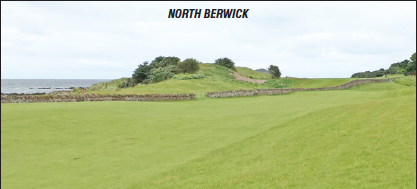 While walking the streets of North Berwick wearing a Ryder Cup jacket from Hazeltine, I was approached by a gentleman with a deep Scottish accent - "I bet you enjoyed that more than we did," he said with a friendly smile, apparently knowing I was not a local.
For this once-in-a-lifetime trip, we stayed entirely on the east coast, overlooking the North Sea and traversing some of the most historic links courses Scotland has to offer. I don't think we could have had a better itinerary. I recommend any and all of them and the hotels at which we stayed. Bucket list item checked off.
Welcome to The Home of Golf.
For golf info:
*royaldornoch.com *castlestuartgolf.com *royalaberdeengolf.com *crudenbaygolfclub.co.uk *carnoustiegolflinks.co.uk *standrews.com *gullanegolfclub.com *northberwickgolfclub.com
For lodging info: *kilmarnockarms.com *golfinn.co.uk *russellhotelstandrews.co.uk