01-05-22

The Southwest's Golf Treat ..... By Greg Wires
I first visited Mesquite, Nevada to play golf more than 10 years ago. I have been back more than once. The golf is terrific, the lodging and gaming good, and it is an easy destination to get to. I usually fly into Vegas and make the smooth drive up I-15, past the Vegas Motor Speedway and am in Mesquite in about an hour. You can also fly into St. George, UT and will be even closer.
Mesquite golf is no longer one of the golf world's best kept secrets. Mesquite is now one of golf's best playgrounds, with a handful of courses that can rightfully be labeled 'premium'.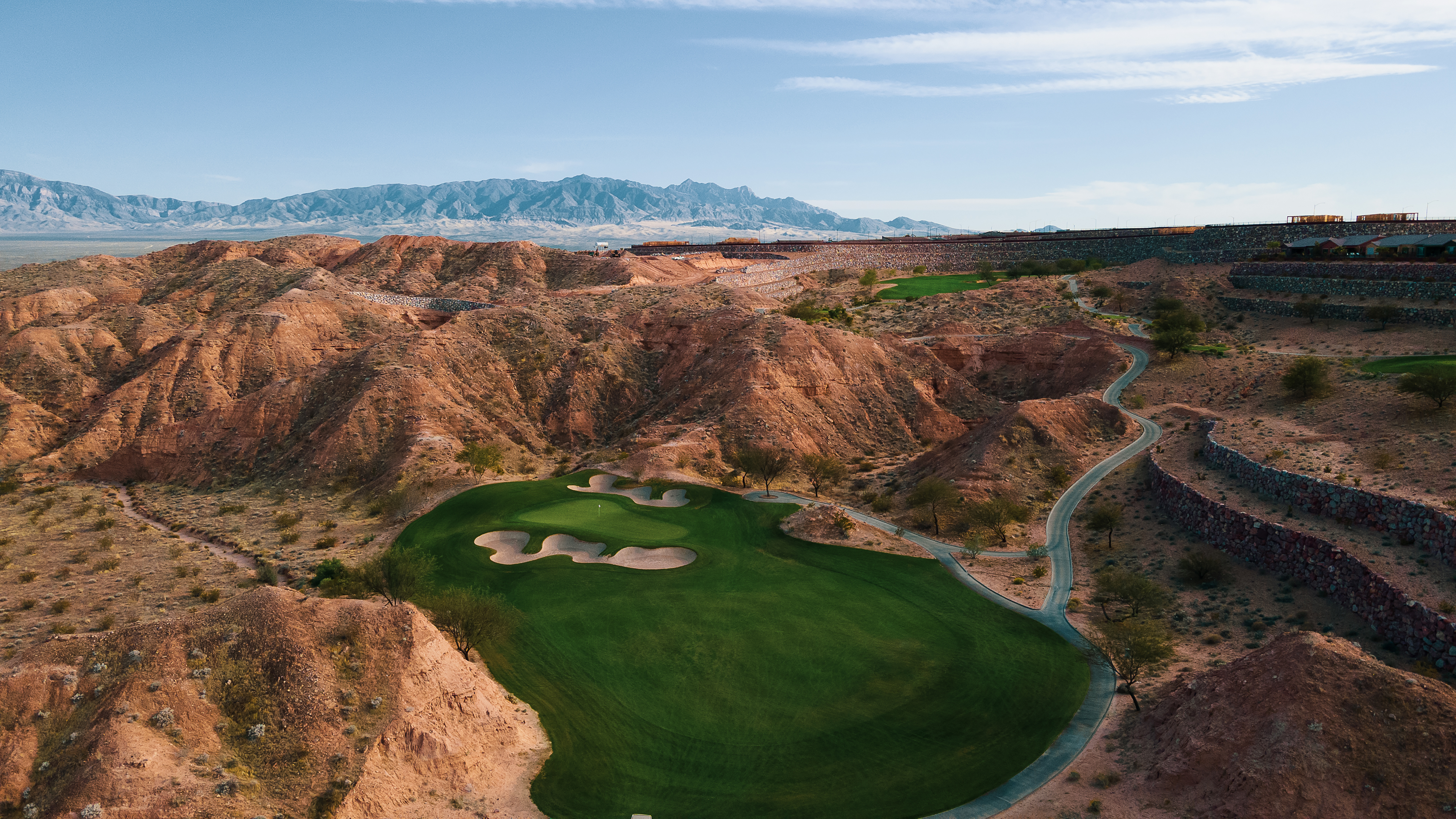 Golf is the heartbeat of Mesquite's economy and, since aggressive marketing began a few years ago, its identity.
Situated in the Virgin River Valley, Mesquite is a terrific option for the golfer- gambler who doesn't want to wait for tee times, table games, sportsbook bets or poker buy-ins.
Some of the best packages in desert golf and the best values in hotels/casinos are available here. Table game minimums and green fees are reasonable and the amenities will meet or exceed your expectations. "We realized from the very beginning our golf course partners' marketing goals would be an ever evolving aspect of our growth," said Cody Law, the CEO of Golf Mesquite Nevada. "We are happy to offer golf courses that are at the forefront of the golf vacation market. We hope the different designs and playing experiences of Mesquite's courses continue to attract golfers from all over the nation, well into the future."
Courses include The Palmer (designed by Arnold Palmer) and Canyons at Oasis Golf Club, Conestoga Golf Club, Coyote Springs (Nicklaus design) and Falcon Ridge.
The topography of Mesquite is natural and the views are amazing. The playability of the Oasis Golf Club courses is meticulous throughout the season.
Conestoga beautifully meanders through the contours of Mesquite's spectacular valley and provides an enjoyable golfing experience.
Coyote Springs, the Jack Nicklaus signature course, features eleven lakes that come into play. This may be one of Jack Nicklaus' finest desert creations. Set in the rolling Nevada desert, the course is a scenic wonder. Wide fairways and challenging greens make Coyote Springs a course to play on any Mesquite golf trip. The course can be quite a golf challenge from the tips at 7,471 yards, but with four sets of tee boxes the course can also play 5,349 yards from the forward tees. It has been recognized on 'Best of' lists from many national golf publications including Golf Digest, Golf, Links, and Travel & Leisure Golf.
At The Oasis, The Canyons course is rated as the tougher course, but the Palmer's six elevated tee boxes and over 100 feet in elevation drop, stand out to players of all skill levels. Both courses incorporate risk/reward opportunities, whether a player is long off the tee or consistently straight off the tee box. The Canyons fits nicely into its natural setting, with a wide variety of challenging holes and elevated tee boxes. The Canyons is player-friendly at 6,400 yards from the tips and good scores are attainable if shots are placed in well-defined landing areas. Risk/reward opportunities present themselves on both the outward and inward nines. The Palmer Course has lush fairways, elevated tees and numerous hazards created by Mother Nature. They claim four unique signature holes.
Falcon Ridge is a 6,550 yard, par 71 rolling layout with spectacular elevation changes, numerous water features and high mesa views. Scoring opportunities come fast on the opening nine holes before the course stretches out and more strategic golf shots are required on the inward nine. The golf course sits high on the cliffs of Mesquite and flows through the hills and canyons providing one of the most picturesque golf venues in all of Mesquite golf.
If you do choose to fly in and out of Vegas, consider an extra day or two to play any of the three courses that are part of Golf Summerlin consortium. Summerlin is a 'neighborhood' on the west side of Vegas, about a 20 minute drive from McCarran International.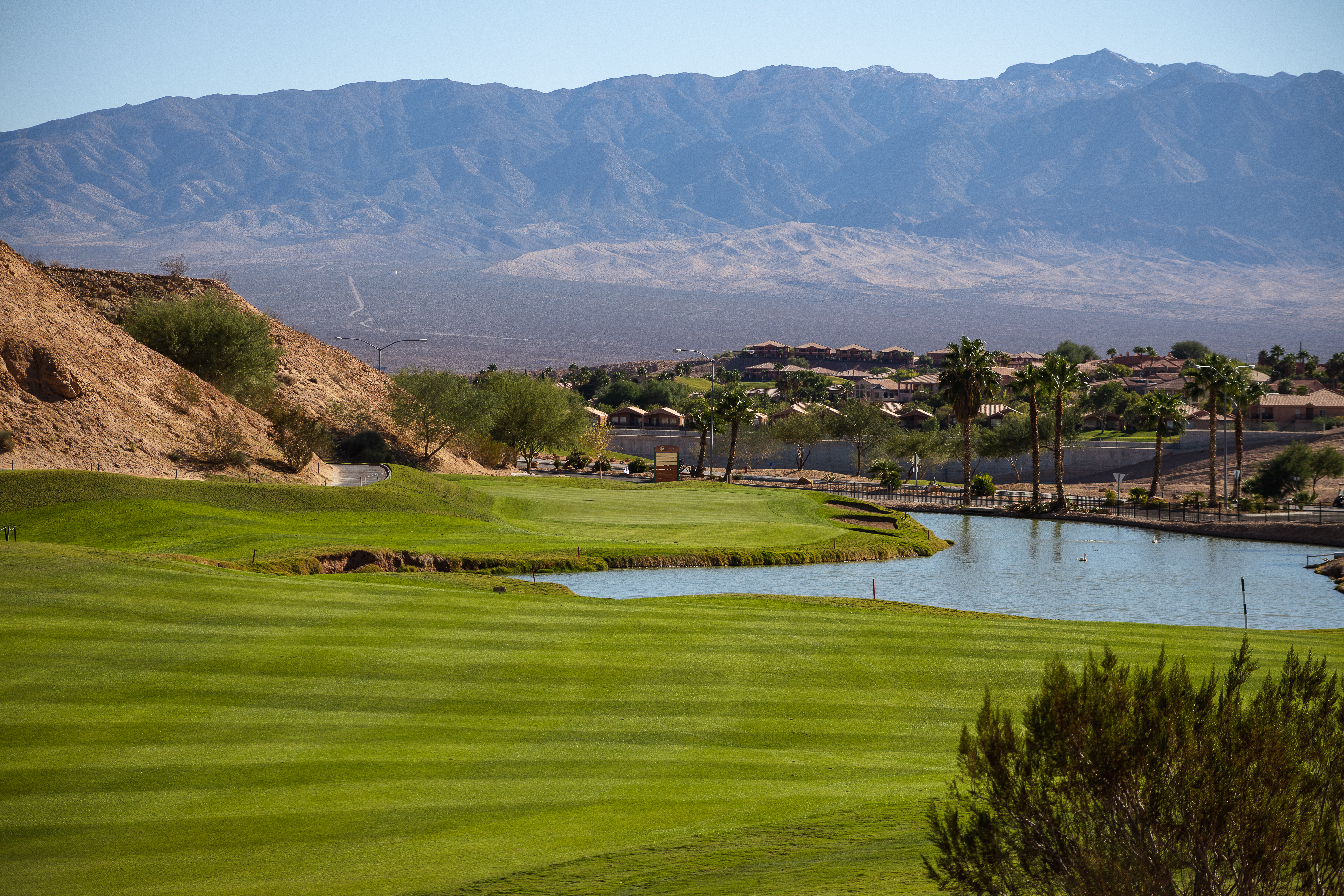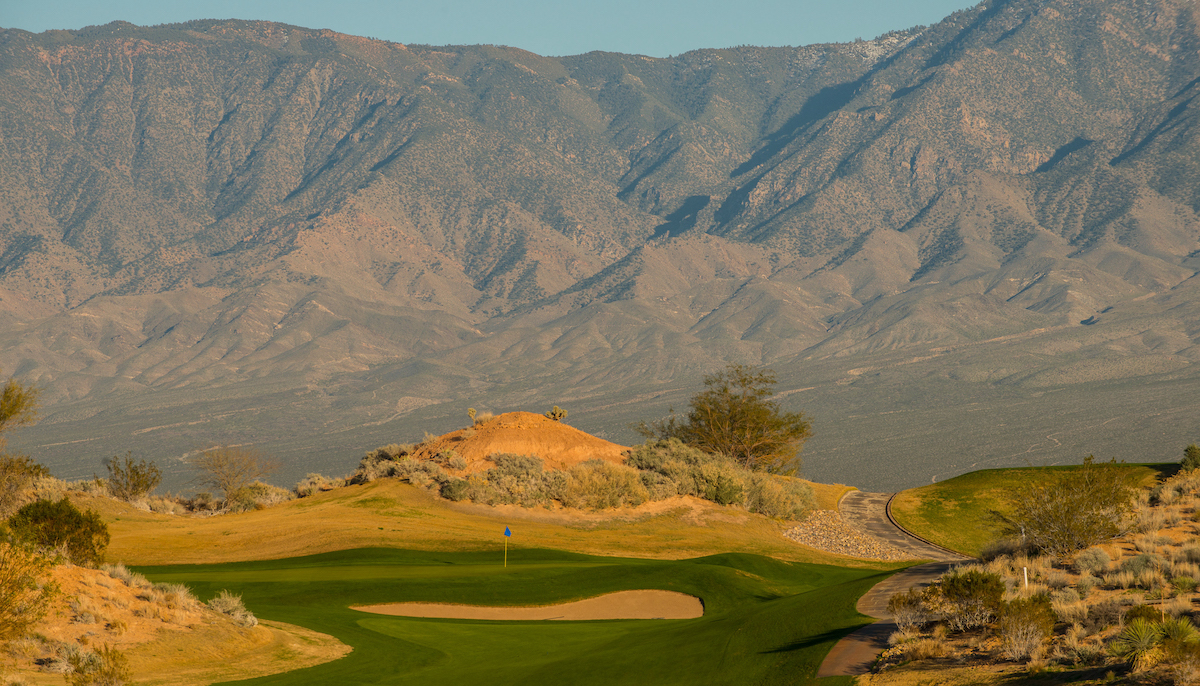 X X X X X X X X X X X XX X X X X X X X X X X XX X X X X X X X X X X XX X X X X X X X X X X XX X X X X X X X X X X XX X X X X X X X X X X XX X X X X X X X X X X XX X X X X X X X X X X X

12-01-12
Desert Golf - Unexpected, Stunning, Affordable .....By Greg Wires


There are several 'Desert Golf' destinations around the USA. The list includes Palm Springs, Scottsdale, Las Vegas and one that offers very good golf and lower-than-most prices: Mesquite, Nevada.

We've been telling you about Mesquite for several years now, but there is more good news from this destination, just over an hour drive from McCarren International. The Golf Mesquite Nevada organization now has more than 10 years as a marketing group. They have brought together several of the top courses in the area and have partnered with the best hotels to create affordable packages for your golf group.

In addition to having courses built by some of the best designers in the business, this group has the vision to reach over their Nevada border into Southern Utah and bring into their group, one of the most enjoyable and spectacular tracks anywhere. I write of Sand Hollow in St. George, Utah.



The hour drive to Sand Hollow from Mesquite is simply one of the most jaw-dropping drives in America. You will actually go through the NW corner of Arizona and meander through the Paiute Wilderness while encountering cliffs and gorges you think will never end.  You will see elevations of 8,012 feet in the distance and you will make switchback turns while tempted to turn your view away from the road.

The course you find when you get there is equally stunning. Located only miles from Zion National Park, the topography of Sand Hollow is spectacular. Red rocks, elevation changes and an exemplary layout by John Fought on this 27 hole gem make this the most spectacular venue of the Golf Mesquite group, even if it is two states away.

Within the actual city of Mesquite, your multi-round trip should include Conestoga, for sure. Again, it provides spectacular visuals and a very good and playable layout from course designer Gary Panks. You will find rugged rock formations, gentle water features and the appearance of being a design where nature played a part. 

Falcon Ridge, Coral Canyon, Coyote Springs and The Oasis Club with their Canyon and Palmer Clubs round out the options and every one of them is worth the price. Best of all might be the lower than expected prices at all these Mesquite venues.



For lodging, dining and gaming possibilities, there appear to be several in Mesquite, but the one we can recommend off our own experience is The Eureka.  If you get a chance, find time to talk to Frank Toddre, GM of the Eureka Casino Resort. Frank has recently overseen 



the multi-million dollar renovation of this 214 room facility and is an industry veteran with over 30 years of leadership in gaming and hospitality. He can tell you some tales of his days in Las Vegas in the 'early days'. Rooms are more than adequate, dining is better than average and the gaming offers the usual multitude of options.

Our recommendation is to visit GolfMesquiteNevada.com or call 866-720-7111. Then do yourself a favor and plan your next golf trip to Mesquite.