Grand Lake Colorado
by Larry Berle
Come for the Winters and stay for the summers
Thats what the people who live here year round say— they came to ski but the summers are why they stayed.
It would be hard to disagree since there is so much to do here and the weather is so wonderful during the summer.
Grand Lake Colorado is about a 2 1/2 hour drive from Denver and a half hour north of Winter Park.
It is the Gateway to Rocky Mountain National Park and at the Headwaters of the Colorado River (yep that powerful Colorado River that cuts through the Grand Canyon) This river was originally called the Grand River but the state of Colorado changed its name.
We are on the Western slope of the Continental Divide. What exactly is the Continental Divide you may ask? It defines which direction rivers run in the continental U.S.. Rivers on its western slope drain toward the Pacific Ocean and the Eastern slope drains toward the Atlantic. Thus the Colorado River heads west and provides a substantial part of the water for Utah, Arizona and California and some of Mexico.
Grand Lake is the largest natural lake in Colorado and sits at 8366 feet above sea level. Gaze out at the iconic Rocky Mountain Views and on the golf course hit it farther than you ever hit it before.
Grand Lake is the Eastern entrance to Rocky Mountain National Park where there is 415 Square miles of glorious views . You can even see the "Never Summer Mountains" with snow covered peaks 12 months a year and deepen your education with park ranger led nature programs.
Come here and cross Hot air ballooning off your bucket list with a sunrise flight through a mountain pass.
Just look around you and you will likely encounter Moose, Soaring Eagles, Elk, Black Bear, Big Horn Sheep and if you are lucky maybe all of the above.
Go Fly fishing and (but see the movie A River Runs Through it before you do)
Go Kayaking or River rafting
Go Horsebackriding
Go Mountain Biking (we are talking real mountains here)
Enjoy a sunset dinner at Grand Lake Lodge ( a hotel and wonderful restaurant overlooking the lake). My guess is you will love the food as much as you love the view. visit

www.grandlakelodge.com
All this and golf too— which is the real reason we came here in the first place. Probably not the first location that comes to mind when planning a golf vacation but the courses are wonderful and there is so much more to do in addition to golf, that it truly should be on your destination list. There are 4 golf courses in the area
Grand Elk Golf Course
Craig Stadler and Trip Davis took some inspiration from Scotlands Glen Eagles in designing this golf course that opened in 2003, and the trouble around this course shows it. Fairways lined, not with trees, rather with Gorse and Sage and plenty of tough rough. If you don't find those hazards then you can find water in play on over 1/2 of the holes. Grand Elk is part of a housing development and has now become semi private with over half of the play being public, It sits in the Valley and the rolling fairways are relatively flat, but the surrounding snow capped mountains are always in view
Greens fees are $85 weekdays and $95 weekends includes range balls, cart and very good GPS on the carts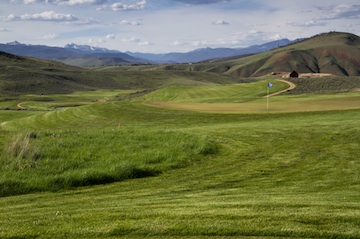 Grand Lakes Golf Course..
Hit it long on the Rolling Fairways of Grand Lake Golf Course designed by Dick Phelps. Stroll among lodge pole pines, aspens and maybe even be visited by a Moose, Elk Chipmunk or who knows what else. Stay focused on the golf which could be a challenge as we are surrounded by snow capped peaks of the Rockies and we are right on the border of Rocky Mountain National Park (which, by the way you should visit when you are here). The front 9 is rolling fairways. The back 9 has so much elevation change that you dare not walk it and the views will challenge your concentration. As you line up that putt remember "you are here to play golf not to daydream.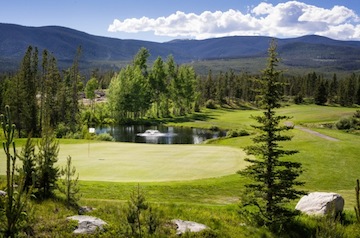 Granby Ranch
Granby Ranch is a few miles down the road and well worth the visit. The front nine plays down on the valley floor but the back 9 climbs into the foot hills and this is where the interesting and challenging holes appear. A couple big up hill par 4s to start but several glorious down hill holes on the way back. Bring your Sky caddie or laser finder because they don't have GPS on the carts although the sprinkler heads are clearly marked with distances to the center. Don't get too distracted by looking at snow capped Mount Baldy which peaks out at 12,500 feet. If that does not get your attention the deep blue sky and never ending sunshine will.
Greens fees $95 and $60 after 2:00
Pole Creek Golf Club-
Pole Creek has 27 holes and today we played the Ranch and the Ridge. The Ridge 9 is the newest (added in 1999) and climbs to the highest elevation (over 8600 feet) and the views and the holes are so very worth it. The final hole on the Ridge is a 532 yard par 5 straight down hill. I am not a long hitter but I was 50 yards short of the green in two. and I felt like superman. It was designed by Dennis Griffith, whom I have never heard of but this guy knows how to design a mountain golf course. In fact for 2 years running it has been rated the best public mountain golf course in Colorado by Avid Golfer Magazine
It also was the 1985 – Golf Digest – Best New Public Golf Course in America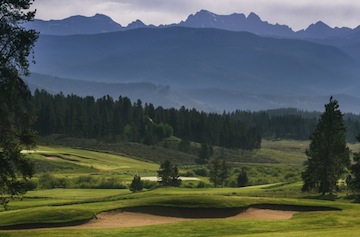 We are staying in the rustic Gateway Inn just down the block— a beautiful log bldg with rooms all decorated in Log furniture

www.GatewayInn.com

Just like you would expect in the mountain country of Colorado
One more thing — if rustic luxury is on your bucket list then be sure to visit Devils Thumb Ranch Resort and Spa. We didn't stay there (I wish we had) the dinner was awesome and rumor has it that the towels are so fluffy that you probably wont be able to fit them in your suitcase.
What a wonderful place for a family vacation with plenty of golf and even a great place to get away with the guys for a few days.