Lutsen, Mn.
By Greg Wires
Superior National at Lutsen has an interesting and complex history, and is currently in the process of adding new story lines and creating an improved golf experience along America's North Coast, a.k.a. Lake Superior's North Shore.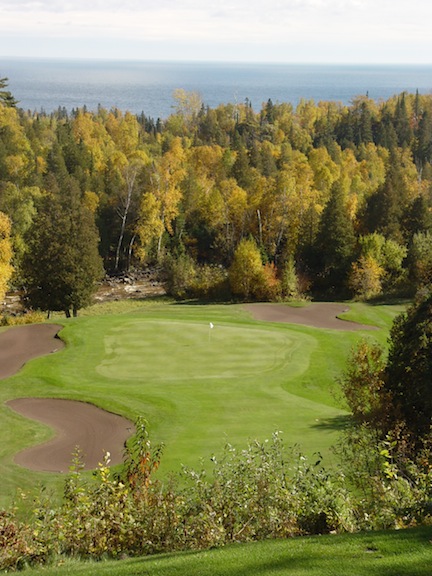 In 1986, local icon George Nelson, owner of the Lutsen ski property in northern Minnesota (and father of Olympic skier Cindy Nelson), decided the area needed new summer attractions including a first-class destination golf course. George was so certain of the need, he pledged and eventually donated, the land the course sits on to ensure its development. Offering up 320 acres of land owned by his family for over 100 years was the significant factor in getting Superior National built. The fact that land was some of the most beautiful and dramatic land on the planet gave the course the chance to become spectacular. Though sounding like hyperbole, consider the elements of the Poplar River, the Sawtooth Mountains and Lake Superior and the goal was and is realistic.
Over the next few years the Minnesota legislature, along with the newly formed Lutsen-Tofte Tourism Association, enacted lodging tax pledges, and received grant funding from the Iron Range Resources and Rehabilitation Board in order to complete due diligence before embarking on course construction. Other government and public agencies, and private entities completed economic impact studies, area benefit studies, feasibility studies and ultimately determined a golf course could and should be built and would become self-sustaining.
In early summer of 1988, golf course architects were sent an RFP for a preliminary routing plan. Designer Don Herfort, who by this time had designed several courses around Minnesota, including the acclaimed 3M Tartan Park and Indian Hills Country Club, was hired. In the spring of 1989, the final 18-hole design was delivered and the construction bid was initiated. In September 1989, construction of Superior National began and one year later building of the course was completed. The first rounds at Superior National were played in August 1991 following a year long grow-in. An interesting note is that architect Herfort suffered a heart attack near the completion of the course and landscape architect Kevin Norby was brought in to finish the clubhouse, entry roads, cart paths, parking lot and practice facilities. Norby himself has become an accomplished golf course architect and keeps his mentor's name in his Herfort-Norby firm.
In 1999, an additional nine holes was added by designer Joel Goldstrand and quickly became the course of choice for many, primarily because of the drama of several of the holes that make the Canyon-nine. While integrated with the original 18 holes, much of the Canyon has been known as the "new" nine, while the original course was largely the River and Mountain-nines.

While still popular and a dramatic, enjoyable course to play, over time many believe that Superior National has become a bit tired and in need of a sort of facelift. In 2013, Jeffrey Brauer was hired to perform the upgrades needed to regain world-class status. Brauer designed the well-received Giants Ridge and Wilderness at Fortune Bay courses, all located west of Superior National in northern Minnesota. As Brauer has told us and stated in a YouTube video: "The challenge is to make the golf equal to the scenery", adding "It will be a course you can play every day."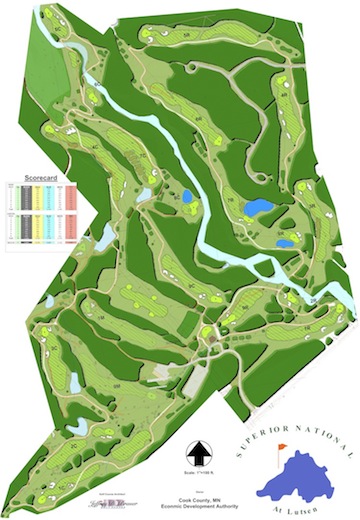 With the luxury of having 27 holes, SNL will be able to keep 18 holes open at all times and the River-nine is the first to undergo a rework. Earth moving began in 2013 and the River should be open in September 2014, at which time the construction crews will head to the Canyon-nine and begin to bring it up-to-date.
For those who have and have not played the River-nine at SNL, you come to terrific drama early in your round, with a short par-3 second hole playing directly over the Poplar River. The Poplar is a narrow, but at times fast-flowing, 21-mile stream that starts at an inland lake and culminates in Lake Superior, the world's largest fresh water lake. Rushing, cascading water is in play on this second hole. When we asked Brauer about his plans here, he noted that there are some 20 yards of landing area between the drop off to the river and the front of the green. He plans to eliminate that and bring the right-front of the green abutting to the flowing water. He plans on a shallow green and envisions it similar to #12 at Augusta with a front, right pin being more difficult than back, left. He also will put in a couple of bunkers behind the green to discourage the safety over-clubbing.
The third and fourth holes have always played similarly, playing nearly identical yardage and being slight dogleg left, up-the-hill holes. Brauer plans to move the tees on #3 back across the Poplar, near #2 green and tuck them behind some trees for safety. If you are used to playing this hole at around 360 yards, get ready for nearly 500 yards on this newly designed par-4! He's also adding some clearing for width and bunkers for definition, of both the fairway and the green. The fourth hole will also be lengthened and a string of cross bunkers will be added on the left side of the fairway. If you can carry any of these bunkers, your approach will be much easier, though with a green dissected by a ridge, hitting the correct part of the green will become key. A far-right hole location will make this a difficult hole, according to Brauer.
The biggest noticeable changes to this part of the course will come where the old 6, 7 and 8th holes were routed. Six used to play as a mid-length par-3, while seven was a mid-length par-4 and the 8th was an awkward par-5. Brauer is combining the land and downhill direction of the first two holes into two par-4s by extending them into part of what was the previous par-5 eighth hole landing area. The new #6 will be a nearly 500 yard par-4, and could also play as a shorter par-5. What will be the new #7 will be a drivable par-4, playing 327 from the tips, but with about 100 feet of downhill drop. The old 8th will become a par-3, a 200 yard downhill hole with the old green refurbished and protected on the right side by a new pond.
Finally, the 9th hole will become what Brauer calls a "spectators' delight", with a raised tee and lowered fairway deep in a valley. The green will also be unique with two tiers separated by a 4-5 foot vertical drop. Though I have only played once with Brauer's young son some years ago, he suggested this writer will not want to skull a chip to the upper tier unless the pin is there.
While not all of these changes to Superior National are final and others may come into play, by all accounts and based on an informal tour of the property last October, it appears that Superior National at Lutsen is well on its way to regaining some of the allure it had in its early years and I suspect that the improvements will be marked and striking. Brauer has created three of the top destination golf courses anywhere, some 100 miles west of Superior National and plans on redoing this one in his own style. He praised the early work of Don Herfort for his "wonderful routing" and wants to improve on some of the details and create a true destination course on what he considers a remarkable piece of property.
I suggest you plan to visit Superior National as soon as this part of the project is complete. I know I am anxious to see it new and I look forward to what will become of the Canyon-nine.