5-15-15

California's Central Coast

By Greg Wires


We came to California's 'second' wine region, the Central Coast area of Paso Robles, San Luis Obispo and the gateway to the Pacific Coast Highway (world famous Hwy. 1) to learn and to tell you about the wine and the golf. First report is on the wine.
        

There's a reason Jan Stephenson, the Ben Hogan* brand and others have chosen Paso Robles to produce their private labels. The wine produced in this region is simply some of the best anywhere. We toured, with guidance from the on-site sommelier David, Broken Earth Winery, where Jan is having her wine made and could not have been more surprised at the operations and the results. A funny sidenote - Jan is, of course, from Australia and she went to Paso Robles to find Australian winemaker Chris Cameron, whom she told us is "brilliant". We also visited EOS - named for the Greek Goddess of Dawn and found delightful varieties from bold Cabs to sweet and soothing Ports. In fact, Zinfandel is the area's heritage wine variety, having been planted as early as 1882 by an Indiana rancher named Andrew York. With 217 bonded wineries and more than 8,000 full-time equivalent jobs in Paso, the wine industry is significant. The distinct climate and varied soils, combined with warm days and cool nights, make growing conditions ideal for producing many wine varietals. While Napa Valley continues to be the behemoth of California winemaking,the Paso Robles region offers a terrific and interesting alternative.
              
 
On the golf end we can tell you of one delightful track within the city of Paso Robles. Using our Golf California mobile app from the Golf America collection of state apps, we found that there were 4 courses in the 93446 zip code. The first one we drove past called themselves a "links" course that looked rough from the road - more like a farm field with flags in the ground every few hundred yards. We took a pass on playing it. We also located a bit more of an upscale course, but they seemed standoffish when we talked to them. It was almost like they don't want tourist golf and were not interested in being part of this story.

   

Finally though, we located and talked with the very friendly and receptive staff at Paso Robles Golf Club, formerly a private club that is now open for public play.  It went public in 1996, then owner Mike Rawitser purchased the course and began a significant, multi-million dollar renovation in 2012.

Playing PRGC was a treat. With a beautifully remodeled veranda overlooking the ninth and eighteenth holes, and a very playable 18 holes we could not have had a more enjoyable round.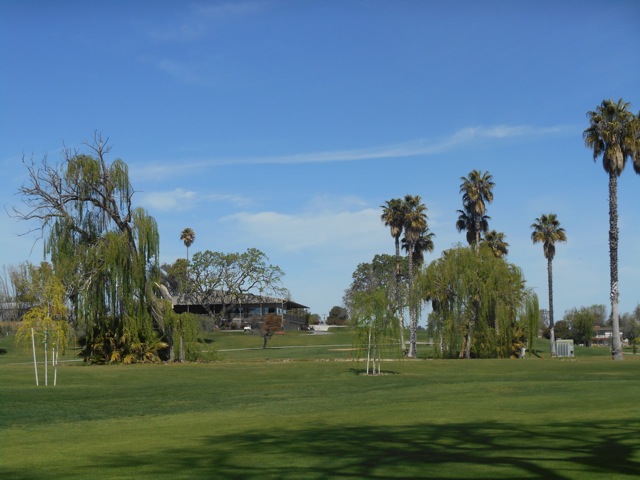 Holes nine and eighteen actually provided some of the golf enjoyment as very similar mid-length par 4s with approach shots needing to carry water some 50 yards in front of the greens. There are some moderate elevation changes on the course and it has a feel of a mid-20th century small town country club. Greens are on the smaller side as was often the custom when Paso Robles GC was built in 1961. The course is not particularly long, playing at just 6157 from the blue tees, but with at least some water on more than half the holes and strategic bunkering, the course is no pushover either.

   

Overall, the course, the food and beverage and the entire ambience of Paso Robles Golf Club makes this a track worth playing should you find yourself in the Central Coast area of California.


*Publisher's note: Unfortunately, the Ben Hogan wines are no longer being produced. Their wine assets were recently sold to a neighboring operation. Look for availability of the Jan Stephenson collection this year. You can also read about Jan, her career, and her wine in the current issue of Golf Minnesota, available through golfminnesota.com or many retail outlets across Minnesota.

For more info on the golf: pasoroblesgolfclub.com - 805-238-4722
For more info on the wine: www.pasowine.com
For more info on the city: pasorobleschamber.com